Skull Checks
$14.99
These checks have a slate blue background with a ...
$14.99
These checks have multicolor skull that have hair ...
$6.99
Be on trend with these wild skulls of many colors ...
$14.99
If you like the macabre or you just enjoy surprising ...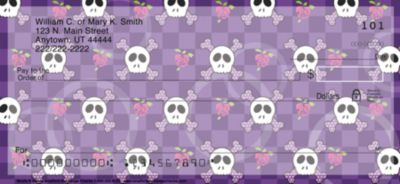 $6.99
A skull and crossbones doesn't always mean a ...
$20.95
No obstacle is too great. No trick is too extreme. ...
$20.95
Skulls aren't just for Halloween anymore ...
$15.95
Skull Personal Checks - The spooktacular personal ...
$13.95
Aaargh! Get ready to walk the plank with these cool ...